Pinoy na mangingisda nakakuha ng pinakamalaking monster pearl sa buong mundo.Alam niyo po ba kung gaano ang halaga?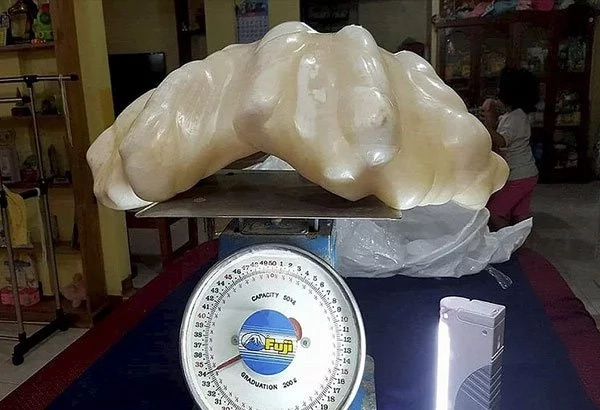 - "The Pearl of Allah" or the "Pearl of Lao Tzu" which was found in Palawan, Philippines is the world's most gigantic pearl ever recorded - However, that was before - One fortunate fisherman has reportedly found in the same waters of Palawan the new largest giant pearl in the world.
Amounting to an estimated value of more than $100 million, the precious rock has 12 inches width and 26 inches length. The unnamed Filipino fisherman allegedly turned over the 75-pound monster pearl to the local government. He found the giant gem a decade ago and just kept it as a lucky charm under his bed without knowing its whopping value.
This Puerto Princesa fisherman was propelled to hand over the mega-sized pearl to his tourism officer aunt Aileen Cynthia Amurao after a fire caught his home. His government employee aunt verified that the pearl he had was found in a giant clam. "He didn't know how much it was worth and kept it tucked away at home as a simple good luck charm," Amurao said.
"We were amazed when he brought it to us. We now need help from gemologists to fully certify it. We're waiting for authentication from Gemologist Institute and other international authorities. But we believe Puerto Princesa is likely to earn another presitigious title and a record breaker for having the world's biggest natural giant pearl from a giant clam," she furthered. The monster pearl will be kept in the Philippines hoping that it will bring more tourists to the city of Palawan.
[source]
Follow us on facebook
What can you say about this story? Feel free to comment below. Please SHARE this to all your family and friends
---
DISCLAIMER: (NO COPYRIGHT INTENTIONS, FOR SUPPORT AND EDUCATIONAL PURPOSES ONLY) I do not own ANY of the soundtrack, property and rights for audio/ video go to the OWNER. If any content owners would like their images/video removed, Please Message me and I will do so. No copyright infringement intended. Copyright reserved to the respected owner(s) of this video and copyright parties.Thank you for being considerate.
---